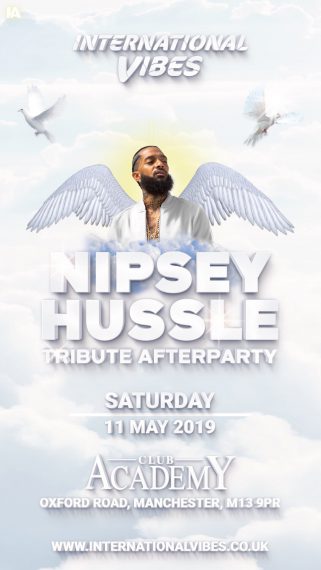 Club Academy
Time: 22:00 - 05:00
Venue: International Vibes Nipsey Hussle Afterparty
Address: 58 Whitworth St W
Zipcode: M1 5WW
Country: UK
Phone: +44 77 27 91 00 99
International Vibes
THE 
NIPSEY
HUSSLE
 AFTER PARTY
11th of May 2019
Club Manchester Academy
If you love HipHop, you don't want to miss this tribute afterparty. Especially if you still want to bounce after the 'Gods Of Rap' Concert or your just want to party you don't want to miss this!!!
The best HipHop will be played this night in Club Manchester Academy and we doing an special tribute to HipHop Legend 
Nipsey
Hussle
 (R.I.P)
Be prepared of the rawest hiphop music  Saturday May 11th 2019
at Club Manchester Academy.
For more info, click on the link
Tickets:- £10.00 MOTD