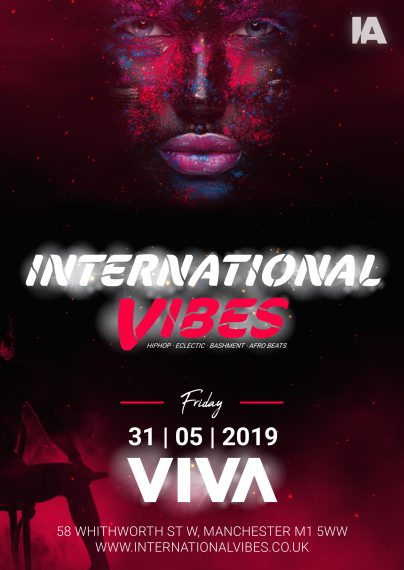 Viva Club Manchester
Time: 22:00 - 05:00
Venue: International Vibes w/ Dj Smasherelly
Address: 58 Whitworth St W
Zipcode: M1 5WW
Country: UK
Phone: +44 77 27 91 00 99
International Vibes  at Viva Manchester
The time has arrived to bring the VIBES to the UK ??and our first stop is VIVA Club in Manchester
International Vibes stands for people, fun and good music with an International Touch. By bringing artist, deejays and party people from over the globe to you.
Our first grand opening will be with an Deejay that has travelled all over the world as the Official Deejay for Steff London and Wretch32.
He knows how to entertain the crowd and that will definitely happen on 31st of May 2019 at Viva Club Manchester.
International Vibes Brings You:
**** DJ Smasherelly ****
Official Dj of Steff London x Wretch32
Support by Dutch Beauty Dj Nikisha Samson from the Netherlands ?? And Hosted By Mc Swoop ??
*** Expect The Unexpected ***
That is all we can say about International Vibes..
VIP/Booth reservations: